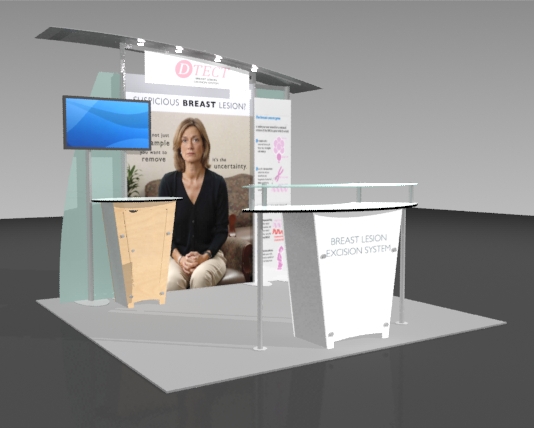 According to a recent survey, 66% of senior management view exhibit marketing essential or important in the marketing mix.
You know there's more to a trade show exhibit than setting up a booth and scanning badges. It's a platform to put your products, services and brand on display in front of possibly thousands of people. Engaging your audience is essential to your program's success. So what are some essentials for moving your trade show program beyond "booth" and into a face-to-face experience?
1. Bring your products to life with a hands-on experience.
From the second an attendee enters your trade show booth their experience with your company begins. Think about how your exhibit can engage their senses and pique their curiosity. This could mean designing special interactivity into the booth to in-booth activities including interactive games, education or live entertainment.
These days it has to be more than a passive walk-through of your exhibit. In fact, 59% of exhibition attendees want to see product demonstrations, and 58% like to have hands-on product interactions.
2. Build deeper connections with prospects and existing clients.
Trade shows mean business and those walking the trade show floor are typically looking for products and solutions to fix specific problems or issues. Actually, 92% of trade show attendees say they are looking for new products and 94% have purchasing power.
Does your product or solution help save money, speed up their network or increase revenues? Make it clear – on signage and in conversation—how your goods or services meet their needs.
To find out about their needs, you may want to dig a little deeper into the demographics and profiles of the show's attendee base. The more you know about them, the better you can plan for them to know more about you.
You can also take advantage of the opportunity a trade show offers to learn more about your visitors. Qualify your leads carefully. Take notes above and beyond the basics and you have a profile to use to continue the conversation after the show. The more you qualify your leads at the show, the more valuable time, energy and money you will save afterwards. And, the greater your success in winning new business.
3. Give people a valuable reason for being at your event.
Provide a take away of value that they can't get anywhere else: ideas, concepts, or propositions that give them something they can consider and weigh or immediately put into action.
Plan your approach, give them the dramatic highlights, but don't show them everything. Leave them wanting more. This way you can make continuing the conversation with your company a positive experience that is worth the attendee's time.
4. Go beyond email after the show.
Sending an email to thank prospects and existing customers for visiting your booth is completely acceptable and a nice way to keep a dialogue going.
But, for those qualified top leads and valuable VIP clients, you've got to go beyond the email. It means taking the right notes at the show so you'll have a real reason to reach out. And if you can leave them wanting more, you're on your way to a meaningful, long-lasting dialogue with your visitors.
Trade shows offer a tried and true business building opportunity. They create personal connections, allow for the opportunity to ask questions, and, ultimately, help build trust. However, they can fall flat without an effective plan for engagement and follow up.
Your trade show booth is not face-to-face marketing. Rather, your booth is the stage for conducting an effective face-to-face event. By adding interesting layers and interactive elements that enhance your brand, you'll engage and intrigue attendees with a memorable experience they can't get online, in an email, over the phone—or anywhere else.
For more information, contact The Exhibit Source.
Business 2 Community
Permalink
|