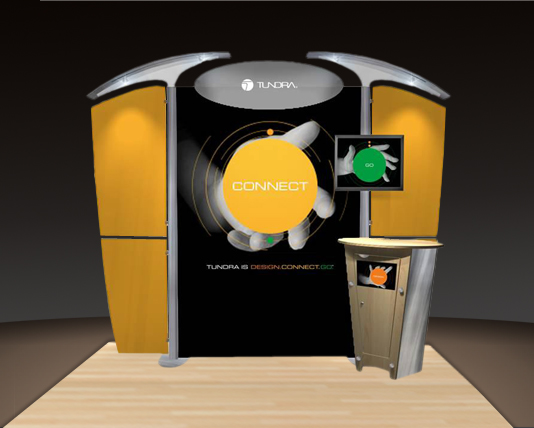 In designing your trade show exhibit the use of graphics is always important and necessary. But it is the type of graphic that catches the eye first that is most important. In creating graphics be sure to do this first and foremost: Quickly and easily show who you are, and what you do.

This seems like common sense. It is so basic and it is so important in your trade show display, but you would be so surprised at how many people don't do this.

Remember that you have no more than 5 seconds to catch that potential client's attention with your trade show exhibit. Potential customers need to see immediately who you are and what your company does. If they don't then you have a slim chance at attracting their interest.

You have been to a trade show; you know that there are just too many other marketing messages competing for the attention of attendees. No one has the time to try and figure out what you can provide.

Be sure to concisely state what you do. Show what problems you solve, solutions you offer and what sets you apart. Show potential clients that your company can meet their needs. This also saves your staff time and energy. It helps you qualify the visitors that stop at your trade show booth.

Adding visual graphics help too. Use bullet points, color images or testimonials to encourage people to stop at your booth. Ensure too that your staff knows your product, service and business in order to help increase your trade show ROI.

For help designing your trade show display, contact The Exhibit Source in Newton.
Permalink
|