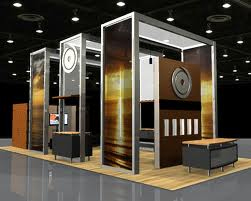 Before creating your custom trade show exhibit you need to first think about what you want to achieve. What is the message you want to communicate new and potential customers. Your trade show booth should have one clear message that is incorporated into the design, and in all of your marketing materials, giveaways, and handouts.

Your businesses trade show display makes an impression. That impressions is the key to attracting traffic to your space at the trade show. To have maximum impact and appeal, you can include additional features like an LCD display or an interactive workstations. The Exhibit Source has plenty of recommendations and unique display solutions. You trade show display and message needs to be effective and strong. An eye-catching and unique booth is an instant hit at a trade show.

Before you start the custom design process of your trade show booth, be sure you know if there are any limitations or specific requirements for the convention center where the trade show will be held. You can find this out by contacting event organizers.

For more information, contact The Exhibit Source.
Permalink
|