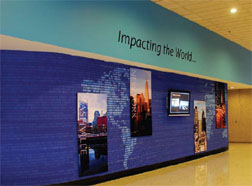 Words do not describe how The Exhibit Source trade show displays promote your business with style and flare that put you light years ahead of the competition. You need to put eyes on our display products that create unparalleled first impressions within your business prospects.

We are getting rave reviews about the success of our truly unique Backlit Pop Up Trade Show Displays using state of the art lighting and brilliantly colored fabrics. http://theexhibitsource.com/backlit-displays.htm If you are the type of business who tend toward annual or semi-annual trade show appearances, our state of the art trade show exhibit rental portfolio spans from table-tops to full-scale custom modular displays.

Imagine your customer lobby bathed in branded and or customized corporate interior art, print, photos, and countless other materials that communicate you and your enterprise as a truly innovative company. The image displayed above is just one of many ways we can customize your lobby or any other office space.

Come see The Exhibit Source in action at any of the upcoming Boston Trade Shows and imagine the countless ways to transform your brand and professional appearance.
Permalink
|