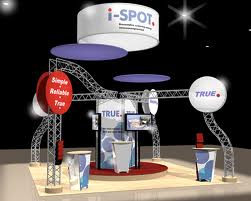 A great way to increase brand awareness and make new connections is attending industry trade shows . Of course, your competition is there too, and so are a lot of other companies. And everyone is battling for brand awareness and competing for the same clientele. You need your company to stand out from the pack.

You only have about 3 seconds to make an impression when someone is walking by your trade show display. A surefire way to draw attention is to think outside the box with your trade show booth. Do something unconventional, surprising, or out of the ordinary, and bigger is better. Your trade show exhibit needs to grab qualified prospects and draw them in.

Your salespeople or employees who are working your trade show booth should be having fun too. Having fun stands out. Let them know they can have fun with the passersby. All of them are potential customers, and some of them are customers. Give them a reason to stop at your booth.

The Exhibit Source understands the importance of your trade show exhibit, we offer numerous options of display styles, contact us.


Permalink
|