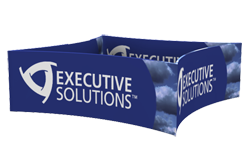 Hanging displays for your trade show booth are custom-printed signs which come in several shapes, sizes, and styles. Made to attract the attention of your target market in large crowds or large conventions, these hanging displays allow the exhibitors to utilize the space above the exhibit floor.
Hanging structures are trade show displays that provide an eye-popping addition to your exhibit space, complementing its overall design. They make sure you are able to send a message about your campaign or company when the trade floor is busy. These hanging signs help your prospects and patrons to locate your trade show easily, when there is a large crowd, thus making your trade show booth more visible.
Hanging displays help your booth stand out from a busy crowd, extending your presence in heights and turning heads from any location toward your exhibition. They can showcase a message and further reinforce your company logo, offering high visual impact and making the right impression of your exhibit.
Hang a displays strategically overhead and have your company gain the advantage over the competition in a busy and crowded showroom. These hanging displays ]create brand identity that floor standing displays won't always accomplish. Overhead signs make your business become visible to anyone, everywhere at the trade show.
To find out more about how to use a hanging display structure as an effective marketing tool during a trade show, visit the The Exhibit Source.
Permalink
|