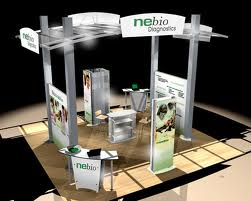 B2B marketers continue to rate trade show events as their most effective marketing tactic
(71%). However, to make the most of an event, and see real return on your investment, you need to create a solid strategy and execute.
If you've been to a trade show, half of the
exhibits
seem to be effective, attracting large crowds, and the other half seem to generate no interest and are filled with employees who look bored and envious of the booths around them.
Some companies
benefit from trade shows
, and others wonder whether their time and money was worth it.
With some proper strategizing and planning, your trade show efforts can get the results that you need it to
.
Here are important steps to an effective trade show marketing strategy.
Plan far in advance
Many times companies register far in advance for the trade show, and then forget about it; or they're last-minute and reactionary when picking the trade shows they participate in. To do trade shows right, you need to begin your planning long in advance. Planning should be a very strategic process, where pre-show, during-show, and post-show are all meticulously tied back to a strategy and aligned with your business goals and objectives.
Determine trade show goals beforehand

What are you looking to accomplish at the trade show? What's your purpose for being there? Determine in advance, long before the event, what it is you actually are looking to accomplish. Everything you do related to the trade show should be connected back to accomplishing your objectives. Be sure to set specific, quantifiable metrics for measuring the success of your trade show.
Design your trade show booth and messaging to make an impact
With all those
trade show booths
,
you have seconds to attract a passerby
to your booth. So, creating a powerful visual impact with simple and clear messaging is very important to lure people in. Your booth is intended to be a backdrop, not a brochure. This can't be overstated: people walking by should be able to instantly recognize who you are and what you do. It's your trade show booth staff's job to take it from there. Also, be sure your brand is prominent and consistent with your other marketing materials.
Make your exhibit space open and inviting
Know your
trade show exhibit
setup in advance: the dimensions of your space, where it is in the room, ceiling height, access to lighting or electricity, etc. This will determine how you set up your presence. Having a table across the front of the booth space can make it appear closed off and uninviting. Instead, create a space where people can enter without feeling trapped. You can create different stations in the space for people to learn about your company and products or services.
Make sure your staff is engaging
Your booth should be staffed with energetic and enthusiastic employees who enjoy connecting with trade show attendees and are implementing the strategy you defined long before they arrive. There should be no working on computers, no smartphones and no sitting. Your staff is there to work the booth, so that should be the primary focus.
In addition to having engaging conversations, consider something else to lure in an audience and create some hype like contests, promotions, and giveaways. But it's more than just giveaways, you need to
have a plan of action for generating conversations
, identifying legitimate leads and capturing their contact information through a scanner or landing page. This will be helpful when beginning the lead nurturing process after the event.
For more information on effective trade show marketing booths and strategies,
contact The Exhibit Source.
B2C
Permalink
|