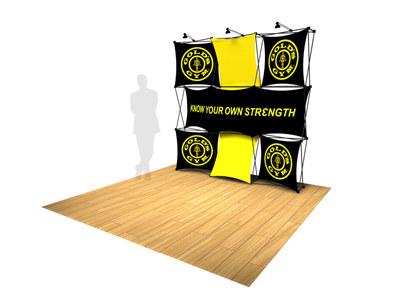 Trade show exhibits are a great way for businesses to showcase their products. However, with many companies presenting their own displays, standing out in the crowd is key. This is where fabric pop-up displays come into play. They provide businesses with the visibility they need to stand out from the exhibitors.
There are two main reasons why fabric pop up displays are popular trade show exhibits.
They are very efficient to set up. Pop-up trade show exhibits in Newton, MA are probably the fastest and easiest exhibit displays to set up. In just a few minutes, companies can have the exhibit ready. They are also portable. Pop-up displays are also durable and efficient but do not compromise on quality. They are made with high quality material that is long-lasting and fade-resistant.
They are effective. Fabric pop-up displays are very catchy and can be easily seen from afar. Fabric pop-up displays are also highly customizable. Using graphic and structural exhibit design, companies can guarantee that their fabric pop-up displays are aligned with their branding standards. What is great about this kind of display is that they are versatile and can be paired with other tools to enhance the overall charm of the booth.
To find out more about how businesses can benefit from using customized pop-up displays in trade show exhibits, contact The Exhibit Source.
Permalink
|