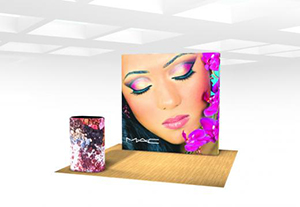 The fabric pop-up displays are ingenious creations that allow you to fashion a more dynamic space during trade shows. For a growing company, it is imperative to search for marketing solutions that allows you to compete with the more established brand names within the field without spending too much. These fabric pop-up displays allow you to do just that.
The graphic and structural exhibit design of pop-up displays can be customized with ease. The fabric graphics can be changed to make them more appropriate for your marketing campaign or the venue itself. The wide array of options for customization allow you to easily update the texts and images of the display. Magnets are used to secure the fabric graphics to the pop-up frame which is portable, making the whole structure easily transported. This is why exhibitors who attend many trade shows and change promos often choose fabric pop-up displays.
The benefits of pop-up trade show exhibits in New York, NY are endless. Companies will be able to give present and prospective clients concise information with an updated promotional tool each time. With these pop-up trade show exhibits, you can be confident that you will have an exhibit that is as cutting edge as the product or service you promote.
To find out more about fabric pop-up displays for trade shows, contact The Exhibit Source.
Permalink
|