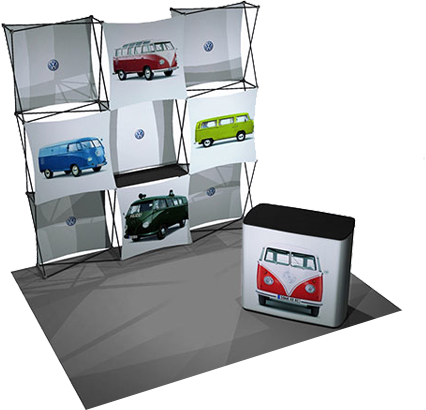 At your next tradeshow, draw attention to your company with full-color fabric pop up displays which are an ideal alternative to traditional pop up displays. This type of pop up display can consistently evolve, allowing you control of what is displayed at your booth for each event.
Most pop up trade show exhibits in Newton, MA are portable. They have user-friendly features for professional presentation during trade shows. They come with a case-to-counter conversion kit and a wheeled, molded-plastic transport case that can also double as a storage compartment. Your sturdy pop up trade show exhibit sets up in a flash and gets the attention and traffic that your company aims for. These displays are then easily packed for travel once the show is done.
In addition to the convenience in setting up and dismantling your fabric pop up trade show exhibit, you will also benefit from a wide array of options. These options will allow you to come up with a graphic and structural exhibit design that is tailor-fit to the specific needs of your company during trade shows. No matter how many tradeshows you attend, your fabric pop up displays will go the distance.
To find out more about fabric pop-up trade show exhibits, contact the Exhibit Source.
Permalink
|