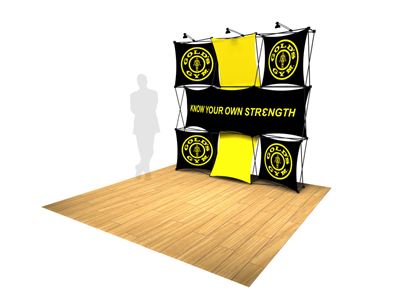 Trade show exhibit rentals offer a selection of displays that can be used for promoting a company's product and/or services. One of the most common choices are fabric pop-up displays because they offer many different benefits to exhibitors.
The fabric pop-up trade show exhibits in Boston, MA are perfect for smaller companies and for those companies just testing the waters of exhibit marketing. Companies that make use of this style exhibit for marketing get more for less. Pop-up exhibits are a cost-effective tool for exhibit marketing. They can be custom created for an affordable and can be used for years.
These fabric pop-up trade show exhibits can cut through the clutter and catch the attention of prospective clients. The graphic and structural exhibit design can be customized to put any company in the best light and offering maximum exposure even with a limited budget. Even by renting these types of displays companies will have full access to the customization options that are available so that the display design will be achieved to ensure that the display will have profitable output.
To find out more about pop-up trade show exhibits, contact The Exhibit Source.
Permalink
|