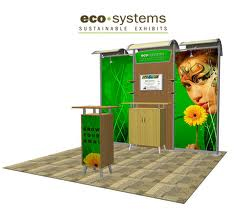 Trade shows can be a great opportunity to get face-to-face time with existing and potential customers, build your brand presence, and express your mission statement. Your mission statement? Yes. What separates you from your competition is in your goods and services and in your mission statement.
The whole objective of a trade show display is to attract the right prospective clients. But, if there are aspects of your mission statement that should get across, you can express them in a trade show exhibit as well. Take going green, for example. If part of your business plan is social responsibility and going green, continue with your green marketing plan in your trade show booth display.
If your marketing efforts involve green marketing or bring your company green, don't stop with your printed marketing materials. While recycling initiatives in your office, like recycled stationery and recycling bins, you can take your green initiative to the next level. With green trade show booths.
Is your company going green with its marketing efforts?
The Exhibit Source is proud to be New England's exclusive distributor of the full line of environmentally-friendly trade show display products, including modular exhibits, graphics, and accessories. These green trade show displays have the visual impact and durability you need, and they are made from high quality products.
Green trade show exhibits only use materials that are renewable, recycled, and recyclable from bamboo plywood to fabric made of recycled soda bottles. Green trade show exhibits show your existing and prospective clients that your company is committed to a sustainable environment.
Contact The Exhibit Source for information about "green" trade show exhibits.
Permalink
|