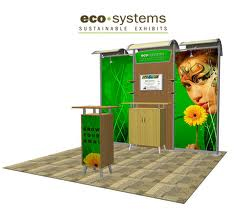 Many businesses today are going green, but not just in the office. Many companies are going green in marketing. But that doesn't have to stop with marketing materials; it can spread to your trade show exhibit booth. Green trade show exhibits can show your client base that you mean business when it comes to social responsibility.

While going green is important to companies, it is also very important to your individual customers. In every aspect, more and more people are making 'green' decisions. So, green trade show marketing can make quite an impression to your customers and potential customers.
Let the Exhibit Source help green-minded businesses engage with booth visitors at trade shows, go green with your marketing efforts. We have a full line of environmentally-friendly trade show displays and booth products including modular exhibits and graphics. We will design and create your booth entirely from renewable materials. A green trade show exhibit will allow your company to demonstrate its commitment to a sustainable environment while making a lasting impression.

For more information, contact The Exhibit Source.


Permalink
|