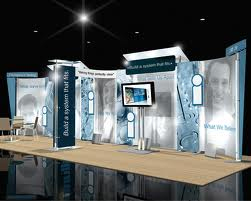 Trade shows are a great way to but your business in front of thousands of people in a short amount of time. Putting together a trade show booth can be one of the most difficult and important things you do, especially if your business is new to trade shows.

Here are some tips to help you plan, design, and create an effective trade show booth.

Start with a plan

There are many different trade show booth options to choose from. You need to begin the process with a plan or you will spend a lot of money on a less effective booth display.

That's why you need to start with a plan. Begin by asking yourself a few questions:

1. What is the purpose of the trade show booth?
Are you trying to get new leads, pass out information about products or services, demo a product?

2. Based on the purpose of the trade show display, what functional needs do you have?
Do you need to be able to sit down and talk to prospective clients for an extended period of time?
Do you need an area where you can show a product?
Do you need a stage to present information to a large group?
Do you need to display brochures or product information?
3. What technical specifications do you need?
Do you need power/electricity?
Do you need a way to display a video or other, similar materials?
Do you need additional security to protect special equipment from being stolen or damaged?
4. Are there any other considerations you need to plan for?
Do you need a booth that can easily be assembled and disassembled by one person?
Does it need to meet specific weight considerations for shipping?
Do you need to be able to redesign it for different tradeshows or uses?
Consider appearance

Many companies design trade show booths to be an experience, creating a space that is aesthetically pleasing, noticeable, and inviting. Many companies today trend toward custom booth designs.

Consider the traffic flow of your booth, and design it in a way that invites people in but doesn't create traffic jams or make it uncomfortable to stand or sit inside the booth. If you have displays or other product demos, be sure there is adequate room for people to sit or stand to watch the demos.

In addition, look at all the lighting needs for your displays or demos.

Create the design

Now that you know exactly what you need, you can choose the display that works best for you.

Whether you need a tabletop model, a floor model, or a modular design, keep the graphics simple and easy to read: Include branding that helps identify your company, such as a logo, company name, and tagline.

You can also include some basic information about your products or services, but only if it can be easily displayed without looking cluttered. Make sure photos are colorful, inviting, and appropriate for the message you need to convey.

Work closely with the design company

If possible, choose a booth design company that is in your local area. Online-based display-booth companies may offer slightly better prices, but with a local company you can visit a showroom and to work with the company more easily to create your booth.

Putting together the right trade show booth can help you bring in new customers, display your product to a large audience, and develop sales leads that generate business for your company.

If you are going to spend the time and money to do a tradeshow, it's worth your effort to develop a high-quality booth display.

For more information, contact The Exhibit Source in Newton.

www.marketingprofs.com
Permalink
|