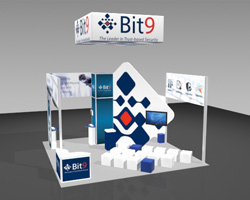 At trade show exhibits, you only have approximately 5 to 15 minutes to make a lasting impression on your target that will give you an edge over the competition. No second can be wasted. Each detail and design of your display is important to effectively cut through the trade show clutter and to get your message straight to them. You need a physical presentation of your products and services that can be accessed from any direction in the exhibit area; this is what an island trade show display does.
An island display is a 3D marketing powerhouse that stands by itself and provides more aisle space. With it, an efficient sales environment can be provided for both the booth attendees and staff, which correspondingly makes communication convenient. Not only are you able to generate an impressive traffic flow but you can also create an opportunity for your staff to engage every attendee who enters your island trade show booth.
Island trade show booths in Newton, MA provide enough of a venue for product demos, group presentation, private conferences, customer lounges, multiple workstations, product storage and more. Other elements such as computer workstations and large screen display counters can add up to an island display's efficiency and effectiveness in the showroom. This is definitely perfect for a single event or an entire series of events.
Island exhibits provide you a spot to make a splash, rather than just show up; make a statement to catch the attention of the attendees in the showroom. Custom island trade show displays can be configured so they can be used at any size venue. Modifications and additions are no problem. They have flexibility that allows exhibitors to meet and exceed the needs of every evolving event marketing program. This means reduced operating costs and a sure return of investment for your business.
Each design needs a different approach to maximize the impact to the show attendees. Make the most of your opportunity with the trade show island display that matches the brand and fits the show objectives. Create perfect island displays from a variety of options at The Exhibit Source.
Permalink
|