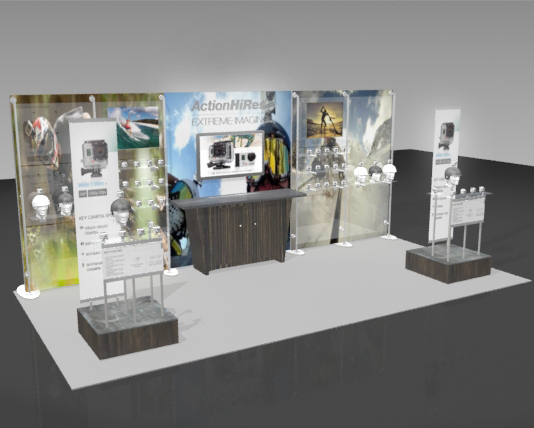 Even though the recession led companies to curtail trade show appearances, many of those companies have returned to exhibiting at trade shows for two simple reasons:
It usually costs less to develop a viable lead at a trade show than through traditional field sales calls.
Attendees at trade shows are often looking to buy now and have the authority to do so.
Because it's trade show season, there's no better time than the present to go over some trade show marketing basics so you can make the most of your budget. Let's look at some of the primary questions you should be asking as you prepare to exhibit.
What should be the focus of your trade show marketing?
A better way to phrase this question is "What message or product/service thrust will enable you to gain the most traction in the marketplace or will enable you to generate the most revenue?" Such messaging may include:
Announcing a new product/service or new line
Announcing recent awards or recognitions (best in class, bestselling, etc.)
Reinforcing the differentiating factors of your products
Delivering new or useful information that your target audience will value
Once you have decided on a direction or theme, make sure it is reinforced in the trade show booth design as well as in all collateral and promotional items distributed at the show.
How do you get people to stop by your booth? There are many things you can do to drive people to your booth, and the following tactics have been proven to work for many businesses:
Send a mailer to the attendee list about two weeks before the show opens. Everyone sends emails these days, which makes mailers more visible and effective. The creative should be consistent with the message/theme of the booth and should promise attendees a reward if they stop by the booth. Don't forget to provide a directional map of where your booth will be located at the show.
Make sure you have a booth near the front of the exhibit hall and to the right (Americans tend to look to their right upon entering a room). Another alternative is to position your booth near the restrooms or food vendors, both of which attract traffic.
Create a theme for your booth that distinguishes it from all the other booths. For example, Stanley tools once had a booth constructed like a hardware store with featured tools hanging on brightly branded Stanley racks. The booth directly related to the product and was definitely different from standard modular booths.
Offer a giveaway that relates to your product. Unless you manufacture golf clubs, don't give away a golf club. Instead, tie your giveaway to your product so that the recipient has a chance to experience your product/service and become attached to it.
Provide mini-seminars or conduct product demonstrations in the booth and post times when these events will be held. Attendees are attracted to useful information as well as gatherings and will be curious as to what is being discussed in your booth.
Advertise or provide editorial content in the show program.
How should you prepare your trade show booth? The booth design itself should be clean, easy-to-read and relate to the overall message/theme. On average, you have under 5 seconds to catch a passerby's attention, so the creative should function like a billboard, with a dominant image and very little text.
As for booth layout and staff, here are a few things to keep in mind:
Remove any physical barriers from the booth entrance; this can increase traffic by as much as 25%.
Prepare a script for your booth staff that relates to the audience at the show and their potential needs.
When it comes to attire, treat the situation as you would a sales call and have your booth staff dress one level better than the attendees.
For more information on creative trade show booths, contact The Exhibit Source.
Denver Business Journal
Permalink
|