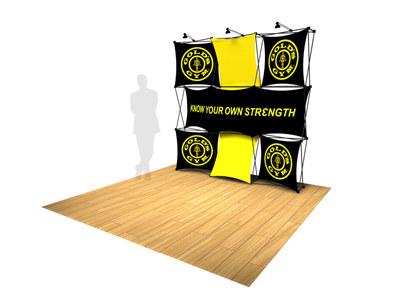 Trade show exhibits offer a great opportunity for businesses to introduce themselves and reach out to potential clients. Exhibitors want to showcase their products with innovating ways for standing out from the competitors. In the business world, competition is tight. For this reason, exhibitors spend money for trade show exhibits in order to be in front of the competition. If you want fast and simple installation and dismantling of a booth for a low cost display, then consider pop-up trade show displays.
Trade show exhibits in Boston, MA offer affordable pop-up trade show displays that are durable and long-lasting. These displays work great for start-up companies or those new to exhibit marketing that are on tight budget. Pop-up trade show displays are convenient and easy to install. Just simply pop-up the frame, attach the end cap flap to the frame, and you're done and ready to show! However, you need a well-designed pop-up display to catch the attention of your prospective clients and to stand out from the crowd.
Trade show exhibits can help draw traffic to your display and can increase your profitability. It should be impressively designed and should contain the specific marketing message you want to deliver to your clients. With pop-up trade show displays, you can present a new display conveniently that can last for years, without spending too much.
To find out more about pop-up trade show displays, contact The Exhibit Source.
Permalink
|