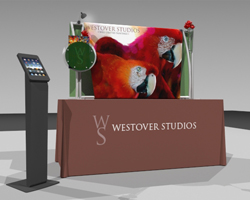 Trade shows offer you a great opportunity to debut a new product or service, or to present an existing one. They also let businesses find better vendors and suppliers as well as supplying the venue where you can easily reach out to present and potential clients. If you decide to have your business attend these events, than a well-designed trade show exhibit in Boston, MA is very important.
Your company will invest money to be on the trade show floor, so you need to make the most out of the event. Therefore, your trade show exhibit must look impressive and it needs to contain your specific marketing message for the attendees. Developing your marketing approach around new products can help draw traffic to your display and maximize your investment.
If your company wants a higher degree of trade show booth portability and wants to make installation and dismantling the booth simple before and after trade shows, then consider pop-up trade show displays. While you need to give your target market something that will make your products and services stand out, you also have to consider the convenience of participating at trade shows. With pop-up trade show booths, you can present a new display each time that will feature your product offerings in a unique and effective way.
There are many types of displays available and the style you choose will depend on your budget and your needs. To find out how you can produce the best trade show booth to meet your marketing goals, contact The Exhibit Source.
Permalink
|