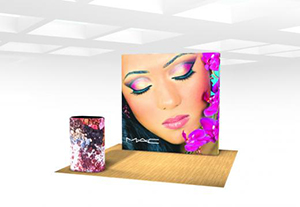 Pop-up trade show exhibits in Westwood, MA continue to be one of the most reliable, versatile, and easy-to-set-up display systems on the market. They have an eye-catching design that can grab anyone's attention. They are also cost-effective which make them an ideal alternative for exhibitors who are on a tight budget. But being economical does not mean that they are built cheaply. In fact, these pop-up trade show exhibits are made from high quality materials which allows them to be lightweight which saves on shipping expenses.
The graphic and structural exhibit design of pop-up trade show exhibits can be creatively and strategically designed based on the specific requirements of your marketing strategy. Another perk of these exhibits is the fact that they can fit into almost any booth space. Even with limited booth space, you can still design your pop-up display in such a way that you are able to maximize your presence at the trade show.
The fabric pop-up displays come in several sizes and configurations in order to satisfy or the unique requirements of your business allowing your company to reach its specific marketing goals.
For more details about pop-up trade show exhibits, contact The Exhibit Source.
Permalink
|