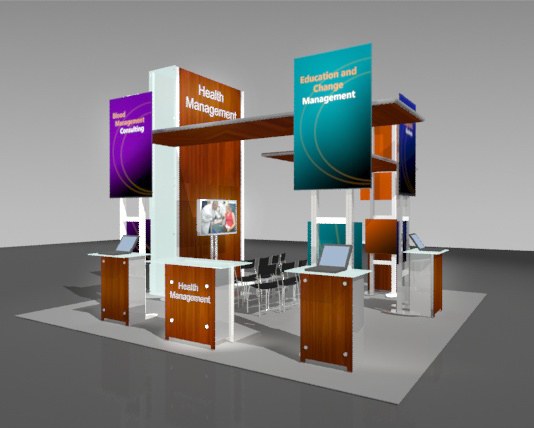 In trade show marketing, having a display in place that can effectively maximize your presence and can help you stand out in the crowd will give you the edge over the competition. Portable island trade show exhibits are an ideal alternative because it offers a 360-degree view which can draw more attention to prospective clients. These island trade show exhibits are exposed on all four sides so your audiences can enter from any direction on the trade show floor.
Using portable island trade show exhibits in Westwood, MA is advantageous because you can welcome your audiences more effectively and make it more convenient for them to find information about your product and service offerings. Trade show island exhibits allow you to make a statement and get your company noticed. They also provide the best opportunity to showcase your brand and messaging.
Island trade show displays offer a variety of flexibility when it comes to changing the graphic and structural exhibit design of your booth. Not only does this allow you to customize certain elements but it also allows you to conveniently reuse and modernize certain parts of your display as trends change in the industry. By choosing to rent portable island trade show displays, you will have a display which can help you improve and maximize your marketing strategy.
To find out more about portable island trade show exhibits, contact The Exhibit Source.
Permalink
|
|