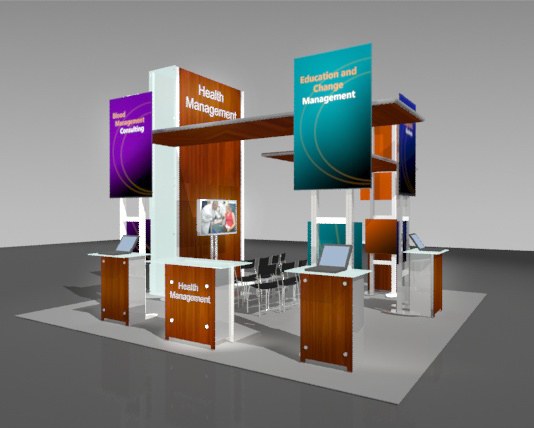 With a variety of options for customization, you can now create the perfect portable island trade show exhibit for use during trade shows and other exhibit marketing events where you can showcase your company's products and services. No matter what size display you want, a custom-designed island display will certainly make a statement at your next trade show event, commanding the attention of your intended audience.
Portable island trade show exhibits in Boston, MA let you maximize your investment through a single exhibit purchase. Island displays can generate a huge return on your investment when done right. If you purchase a portable island exhibit, you will benefit from the highest degree of flexibility; changing the configuration and reusing elements of your exhibit in order to fit into smaller venues. For instance, you can use a small section of your custom island exhibit for one event, split the island exhibits up for simultaneous events, or use the entire display for large shows.
The graphic and structural exhibit design plays a vital role in the success of your marketing campaign. The portable island trade show exhibit is most beneficial and productive when you use the right combination of colors, texts, and images. Your exhibit must be creative and captivating enough to cut through the clutter of the event and catch the attention of your target market. It must also look professional in order to maintain that positive and respectable image for your company.
To find out more about the benefits of portable island trade show exhibits, contact The Exhibit Source.
Permalink
|