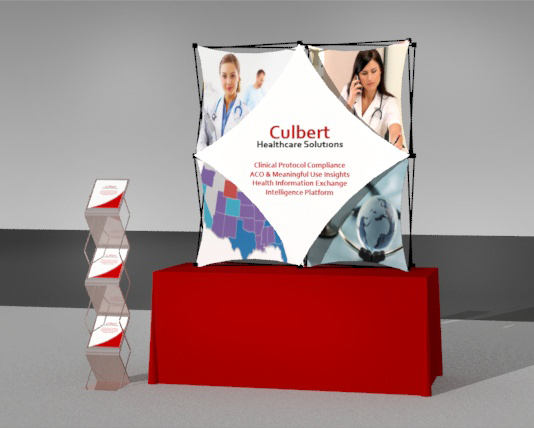 During trade shows, your portable table top display will serve as a direct reflection of your company image and should portray the level of product and service quality that customers can expect to receive. For this reason, your trade show exhibit display must be strategically designed to cut through the clutter and grab people's attention, drawing them to your display and leaving them with a positive impression of your business.
The graphic and structural exhibit design of your portable table top display plays a vital role in attracting prospective clients and maximizing your sales opportunities. For this reason, it is important to consult with expert exhibit designers in order to understand all of the options for high-quality creative design and customization services. When done right, the visual impact of your portable table top display will make a strong first impression and effectively convey your specific marketing message in a matter of seconds.
Trade show table top displays in Boston, MA offer a more economical exhibit option. They work perfectly for smaller events that are perfect for featuring a lightweight display that sits on top of a table. Portable table top displays are also a more ideal alternative for those who participate in many different trade shows because the graphics and text can be easily changed and updated to make them appropriate for every event.
To find out more about the advantages of using portable table tops displays in trade shows, contact The Exhibit Source.
Permalink
|