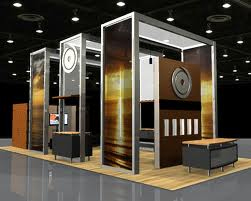 While preparing to attend a trade show, consider these 10 key questions to ask before exhibiting:
1. Why am I participating in this show? There really has to be a why. It can serve as a launching pad for new products or concepts, a way to build up your brand and distribution, a means of nurturing relationships or even a place to position your company for sale.
Once you nail down a clear motive that aligns with your business strategy, reach out to customers and find out if they are attending and if the show fits their timing and needs.
2. Am I organized for the show? Preparing for a show well in advance can save you both time and money. If you sign up early, you can take advantage of discounted rates. On the other side of the spectrum, if you are disorganized, you may incur additional costs. Planning your trade show booth in advance will always be more cost-effective and result in a more focused booth.
3. How much space will I need? While it's nice to have a large footprint on a trade show floor, those who can't afford it shouldn't worry.
For some, investing in a simple booth presentation and then do everything you can to capture contact information and follow-up with these leads after the show. If you can't have impactful conversations with a single booth space, simply adding more real estate probably isn't the right solution.
4. Does it matter who my neighbors are? Absolutely.
You don't want to have a small booth next to an extravagant trade show display. This kind of placement can distract potential customers from your message and products. However, some companies like to secure a booth near flashier ones that will likely attract a lot of foot traffic.
5. Should I sponsor events in conjunction with the trade show? Attend trade shows not only as an exhibitor, but also as a sponsor or presenter, as it affords the best opportunity to inform and educate an audience.
6. Who am I targeting at the show? A show might have tens of thousands of attendees but participants need to figure out who specifically they are targeting and how they plan on reeling them in. Some companies get stuck on the number of people who stop by the booth, instead of looking at whether they are qualified buyers of your goods and services.
Are you looking for 1,500 basic leads or 200 well-qualified leads? Are you looking for shallow and wide exposure or narrow and deep? By qualifying the type of people you hope to reach, you can plan your presentation more effectively.
7. How am I going to measure my attendance and presence at the show? In addition to counting leads, it's important to measure marketing impressions at the show. Just like you can see how many people view an ad in a magazine, you want to know how many people are viewing your trade show booth and other marketing materials like signage on the show floor.
8. Am I familiar with the host city and venue? When you're planning to exhibit at a show, it's important to know about the city you're visiting, as well as the rules and regulations of the convention center, including the associated unions and contractors.
9. Have I backed up my presence through social media? Keeping your customers informed about your company's activities before, during and after the trade show is crucial. In addition to sending out a press release, you can post tweets about why people should come see you at the show. Possible incentives include a new technology, a prize drawing or a gift for stopping by.
Other relevant social media efforts can include blogging from the show floor, making regular updates on Facebook and posting videos of customers visiting your booth on your website.
10. Do I have a post-show plan? It takes a lot of money to plan and exhibit at a show. Don't let all your effort go to the wayside by not being active after the event is over. In this competitive world, if you don't respond to leads within two or three days, your competitors will. Have a sound plan for following up with people immediately after the show is over.
For more information on trade show marketing and trade show booths, contact The Exhibit Source.
Entrepreneur Magazine
Permalink
|