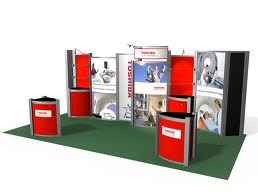 In some situations, it makes more sense to rent a trade show exhibit in Boston, MA instead of purchasing one. This is a more practical alternative because the expense is often less when renting. However, there are other cases where renting proves to be a more ideal option.
Rental trade show exhibits provide you with much flexibility for a great price. There may be times that your trade show space only accommodates a certain size booth which is different than the size booth your company already owns. When renting a trade show booth, you will always have the size that suits the available floor area. As a result, you will always be able to maximize the space without installation and set-up problems
Another advantage of renting a trade show exhibit is that you will always have updated graphics and structural design. It is easier to have a display that is tailored and matched to the theme of each event. If your company owns an older exhibit, it may not be ideal to use that display in all of your trade show marketing events. With the rental option, not only can you always rent a new design and style but you can also rent trade show booth accessories to bring your exhibit to the next level.
Now your company can create virtually any look or feel for your marketing event. For more information about your options, contact The Exhibit Source.
Permalink
|