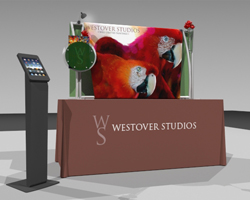 Table top displays in Newton, MA are commonly used in the trade show industry because they can be set up and dismantled easily and quickly. Apart from ease of use, they are also able to make a good impression on your target market in your attempt to stand out from your competition during the event.
Table top displays are known to be multi-functional and have many advantages compared to other types of exhibit displays. Aside from the combined durability and reliability, part of their allure is the ability to exhibit your products and services conveniently even in constrained places or in areas with limited floor space. They are also flexible enough that they can serve you best in various conferences, trade shows and other settings.
Table top displays convey your message more clearly with the use of eye-level graphics at half the price. These displays serve as lucrative alternative exhibits that can be used at trade shows because you only pay for the part of your exhibit that can be seen by your prospective and existing customers. Therefore, using table top displays is a cost-effective way to focus your goal to generate a great return on your investment.
To get a table top display that is sure to fit your exhibit needs, visit the The Exhibit Source.
Permalink
|