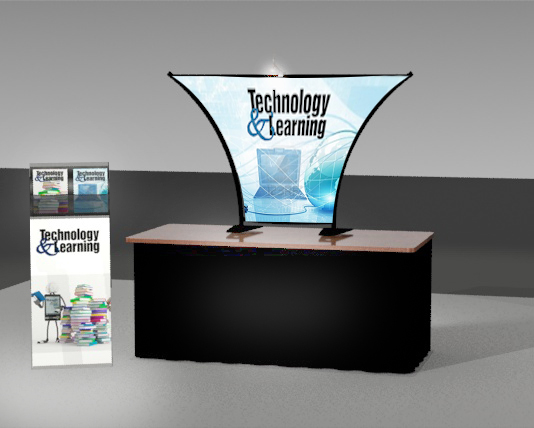 If your company has multiple trade shows to attend this year, it is vital to consider the available resources such as booth space, exhibit booth design and most of all, the budget. Efficient promotion and marketing of your products and services are essential components to your business' success in delivering brand awareness to prospective leads. There are vast options available for displaying your product and services at trade show exhibit halls. To have an effective brand impact, table top trade show displays provide an impressive, simple, yet cost-effective option for a remarkable exhibit booth.
Trade show table top displays in Westwood, MA offer portability, flexibility, and easy-assembly. These smaller-size booths can be easily assembled and disassembled for transport. Because they are light-weight, they are flexible enough to allow them to be easily packed up, transported and set up. These portable table top displays are also customizable to be updated and reconfigured depending on the space and type of event you're attending: trade shows, conventions, career fairs or other marketing event.
Since portable table top displays are made from light-weight materials and are designed for easy set up, they are less expensive and far more budget-friendly than other types of booth displays. Above all, these elements mean a smaller budget is needed because more workers are not needed to assemble and disassemble the booth and there is no need for intricate tools. The key to a successful trade show display is quality and messaging. Even with a smaller space, and simple and light-weight materials, your business can still showcase the products and services perfectly.
To find out more about trade show table top displays, contact The Exhibit Source.
Permalink
|