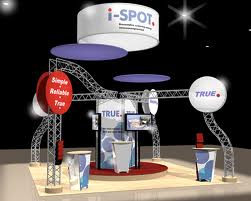 Trade show exhibits provide many benefits that other marketing techniques don't. Trade shows give you face-to-face engagement, networking and product displays that are perfect for overall marketing. When designing your trade show exhibit, remember that your competition is there too vying for your customer base as well. To bring customers to your trade show booth, it is imperative that your display effectively stands out from the crowd.

Effective ways to get your trade show exhibits to stand out:

Height: Because most displays are around 8', creating a trade show booth that is 10' or more sets you apart and makes you easy to find.

Color: The color of your trade show booth should provide a contrast and be visually appealing. Remember it is a backdrop for your images and message.

Signs: Prominently display your brand logo throughout the booth display. Use additional customized banners and remember you can never have too much signage.

Graphics: Invest in your brand with the right graphics. Other than your logo, trade show exhibits should also have the latest product graphics and images so everyone who visits your booth knows who you are and what you do.

Flooring: Use customized carpeting to have your trade show booth visually stand out.

Customized lighting: Many venues don't have enough or the right lighting. Be prepared with your own lighting. Make your trade show booth the brightest and easiest to find.

For more information on trade show display design in Newton, MA, contact The Exhibit Source.
Permalink
|