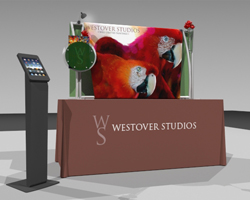 Your trade show exhibit in Boston MA is your best shot to showcase to your target market and show them what they can expect to experience from your company, products and services. Your booth must make a visual impact that can leave a positive first impression and market your message in a blink of an eye.
There are several sizes and styles you could choose to maximize your sales and leads opportunities. To realize the greatest return on investment, the trade show booth must be attractive, cost-effective, and flexible to match every event or exhibit you participate in. Below are just two of the types of trade show display you can use:
Table-Top displays offer a more affordable exhibiting alternative. These are perfect for smaller events as it flaunts a lightweight display which literally sits on top of a table. Table-tops are also perfect for those who are tight in budget because the graphics and headlines can be conveniently modified and updated. Choose bright colors or bold graphics to immediately get the attention of the target market at the event area.
Portable island exhibits can be the feature of the show and can contribute to the future success of your business. Using trade show island exhibits can take any setting to the next level. It makes your company stand out among other displays. In return, these displays portray an image that your brand is a proven major player in your respective industry. This is one opportunity where you not only can let your creative side shine but also invite your target market into your world and create a productive business relationship with them.
To fulfill all your exhibit development needs and meet your budget requirements, contact The Exhibit Source.
Permalink
|