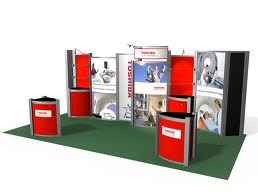 Trade show exhibit rentals in Boston, MA offer several benefits for small, mid-size, and large companies. Renting a trade show booth, display, accessories, or other necessary supplies can give you more flexibility when choosing a temporary look or theme for a specific event and rentals can also be more convenient to order at the last minute.
Trade show exhibit rentals are also a good choice when you want to lower overall costs and cut down on set up and tear down time. While the graphics, message, style and color can be custom designed, by choosing a display rental, you will not incur excess fees and material costs involved with developing and designing a brand-new trade show exhibit display. Rental displays are easier to transport, assemble and disassemble, so time is not a factor when you are to setting up your booth and promotional materials at a busy trade show.
Trade show exhibit rentals have a wide range of graphic and structural exhibit design options. You can be confident that the look your business is after can be quickly achieved and the look and feel of your display and the final product will be perfect for the sales goals you are trying to achieve. Updating your exhibit with accessories, decorations, posters, and other supplies is a fairly simple process which allows you to achieve a professional look for your company's display without having to pay high custom fees. When renting trade show exhibits, you will be able to choose exactly what matches your specific marketing goals and put it into use immediately. This is one reason why trade show exhibit rentals are convenient when putting together a last-minute event.
To find out more about trade exhibit display rentals, contact The Exhibit Source.
Permalink
|