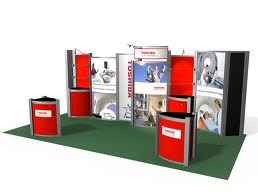 Companies capitalize on trade show participation in order to generate goodwill and face-to-face contact with customers. If it is the first time your business is attending such an event, you may want to test the waters. Make use of trade show exhibit rentals in Newton, MA which will invite and inform prospective clients on your products and services offered.
Trade fairs and other exhibit marketing events can accelerate your marketing goals. In order to ensure trade show marketing success, it is important to have graphic and structural exhibit design that reflects a positive image of your brand and that adheres to your company's specific goals. There are a wide array of options for customization that allow you to swap out graphics in seconds so your exhibit display suits each particular event or sales pitch.
An effective trade show exhibit is one that reaches a large number of prospects in a brief period of time. Effective displays grant you an excellent opportunity for introducing, promoting, and demonstrating new products and services to many people. For this reason, you want to make sure that your exhibit display is as effective and eye-catching as possible. With a strategically designed trade show exhibit, you can be confident of a boost in sales and leads.
Trade show marketing is very lucrative when your exhibit is done right. To find out how to make your event a success, contact The Exhibit Source.
Permalink
|