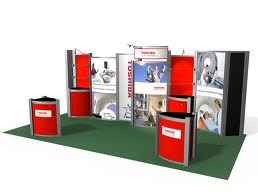 Trade show exhibit rentals in Hartford, CT provide a multitude of benefits and advantages to any exhibitor. This is why more and more businesses are choosing the booth rental route. Mainly, exhibits for rent allow companies to splurge without a commitment to ownership. Renting allows test driving of the exhibit before purchasing.
Prior to committing to ownership, companies are able to test the waters by using trade show exhibits for rent. See if a particular graphic and structural exhibit design will work best with respect to the specific marketing goals of your company. If it is determined that certain features need to be altered or upgraded based on the show-floor experience in order for the exhibit to be more effective at trade shows, the modifications can be easily and systematically made.
Trade show exhibits are available in various sizes and styles, each come with different accessories as well as customization options that help it cut through the clutter. However, it is important for companies to first realize and identify their unique needs before deciding on which trade show exhibit rentals they should take advantage of. This thorough decision-making process will aid in optimizing resources and the bring more versatile opportunities of attending trade show.
To find out more about how to maximize your options for trade show exhibit rentals, contact The Exhibit Source.
Permalink
|