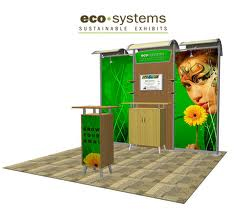 Whether you are a retailer or a wholesaler, there are many advantages to using trade show exhibits in Boston, MA. These exhibit booths allow your intended audience get to know your company and your products and services better. Trade show booths are a cost-effective means of showing good will and conducting face-to-face interactions with potential customers.
Because trade shows are typically events at which distributors, manufacturers, investors, and other vendors display their products and services, it is important to participate in these events as well. Your trade show exhibit has to be built so that it adheres to your specific goals of bringing in more customers with purchasing power in order grow your business and meet your sales goals.
Trade show marketing exhibits provide an effective venue for building long-term relationships with your customer base. Your presence in trade shows helps promote awareness of your brand while you inform your target market of your current offers. Trade shows also provide you with concentrated exposure to your customers and potential customers, which is an excellent opportunity to introduce and demonstrate your products to many people more efficiently.
To find out more about how you can design a trade show exhibit to your advantage, consult the experts of The Exhibit Source.
Permalink
|