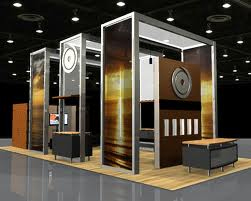 Your specific objectives and budget determine your choices when it comes to Trade show exhibits in Boston, MA to use during an event. The companies with limited or smaller budgets have the option to rent a trade show display that can effectively attract visitors and potential customers. However, renting an exhibit display does not mean it will be less ambitious or less effective. When done correctly, rental exhibits are excellent at promoting your products and services to your target market during any sales event or conference.
Trade show exhibits for rent can be converted from ordinary into a stand out display during the event with the help of trade show booth accessories. It is absolutely possible to maximize your budget by renting an exhibit display. Rental exhibits are excellent functional components that can provide a custom look and that can be set up, transported, and installed with ease. Plus, you can add distinctive graphic designs that work well in attracting your target markets; getting their attention in a busy crowd and helping them remember your brand and business.
Rental exhibit displays are a cost-effective alternative that have all the aesthetics and functionality qualities your booth will need. They offer options for customization so that the exhibit can be built to meet all of your company objectives as well. With the help of trade show exhibits, you will be able to inform your patrons and prospects about what can you offer while your business makes a big impression that sets you apart from the competition.
Make your next exhibit a success. Contact the The Exhibit Source for more details.
Permalink
|