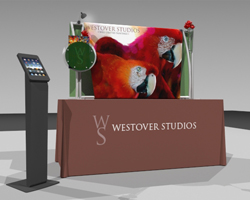 Trade show marketing exhibit gives your company and brand the big exposure that you have been looking for. But, in order to reach this goal, every detail of your exhibit booth must complement and work together in order to stand out at the event.
To maximize your exposure during the event, the graphic and structural exhibit design must include great lighting and excellent graphics. The booth lighting helps cut through the clutter to display your exhibit to your target market. Great color combination and strategically placed images can also contribute to the success of your trade show exhibit. It must be great in catching the attention of your intended audience and in generating traffic. It also needs to be effective in keeping your audience interested. Your trade show exhibit must convey a specific marketing message in addition to the relevant information about your products and services.
Your trade show exhibit in Boston, MA must show your audience what you are offering, it should not leave them to try and figure it out on their own. You only have mere seconds to make an impact as they travel the show floor. If they cannot immediately see what your company can offer, the type of business you do, and how can it benefit them, they will keep walking and you have missed an opportunity
To find out more about trade show exhibits that meet your specific requirements, budget, and deadline, contact the experts atThe Exhibit Source.
Permalink
|