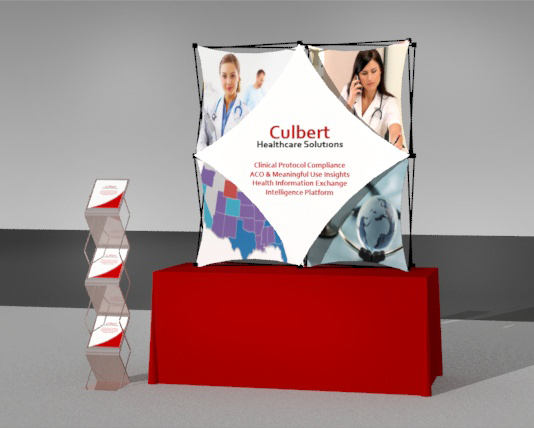 Trade show table top displays in Boston, MA provide a better focus for the products and services you want to promote during an event. If your trade show exhibit could benefit from better focus, table top displays are a great choice because they are hard to miss, being located right on the main table. With this focus, your intended audience will be drawn to the highly visible display, generating higher traffic numbers and higher return on investment.
The graphic and structural exhibit design of a table top display offers many opportunities. The design can be attractive without being too complex in structure. In addition to being able to cut through the clutter and giving a better view of your display, table top trade show displays also have additional room for storing products and other promotional literature without extra expense or effort. Table top displays are helpful in ensuring that there is enough display area and storage space for all the materials you need at the trade show without having to enlarge the space allotted and without paying more.
It only takes minutes to set up or take down portable table top trade show displays. Even the largest ones can be easily put together and taken apart in a snap. Compared to other styles of displays, table tops are more convenient to transport to and from venues as well.
In order to compare cost and benefits for table top trade show displays, contact The Exhibit Source.
Permalink
|