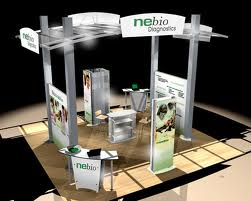 There is quite a value for many businesses in trade show marketing. However, some business are new, small, just experiencing an economic recovery, or attend only a few, specific trade shows in a year. For this reason, many companies opt to rent a trade show display rather than purchase one. But there are other reasons to rent over buy as well. Here are just a few:

1. Cost
Renting trade show displays costs less.

2. Invest Wisely
Renting trade show displays allows you to spend more of your budget on your trade show graphics and messaging.

3. Flexibility
Different trade shows appeal to different attendees. Renting trade show exhibits offers the flexibility of changing your display and graphics from show to show.

4. Overlapping Trade Shows
No need to choose between attending two important trade shows. Renting trade show exhibits means you can effectively attend both shows.

5. Upgrading
Flexibility is important to every business or organization. When you rent your exhibit, you can change or upgrade your display quickly because your resources aren't tied up. This gives you the freedom to target your marketing messaging and graphics for specific trade shows.

6. Installation and Dismantle Included
When you rent a display, install and dismantle can be included.

7. No Storage Expense
Storing a display can be expensive, getting it ready can be time consuming, and shipping it can be challenging. When you rent, there is no storage expense and there are no delivery or prep hassles.

8. Testing
Renting a trade show booth lets you test it before you invest in it. When you make the decision to purchase, you will know you have made the right choice.

For information on renting a trade show booth, contact The Exhibit Source in Newton.
Permalink
|