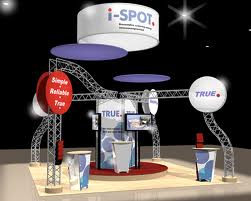 A trade show exhibit display in Newton, MA allows a company portray the quality of products and services that customers can expect to experience. Exhibit booths also display an image of a company that can make or break its reputation in the eyes of its target market. It is also a means of making a direct impression and conveying your message to your customers and clients in a matter of seconds.
Below are some tips on how to get started with your exhibit booth display to attract prospects and generate a profit:
Determine the objectives that will define your success in the trade show. It is by knowing what goals you want to achieve that can guide you on the specific course of action you are going to pursue.
Decide on an image that will convey the message you want to impart ons your target market through your trade show display.
Design your trade show exhibit so that every element of your exhibit will work together effectively for the event. This will help you decide on the style of trade show booth and the size of the display you are going to use in order to meet your exhibit requirements.
The best place to start your road to a successful trade shows is to visit The Exhibit Source to meet your exhibit development requirements.
Permalink
|